Fiduciary Financial Advisors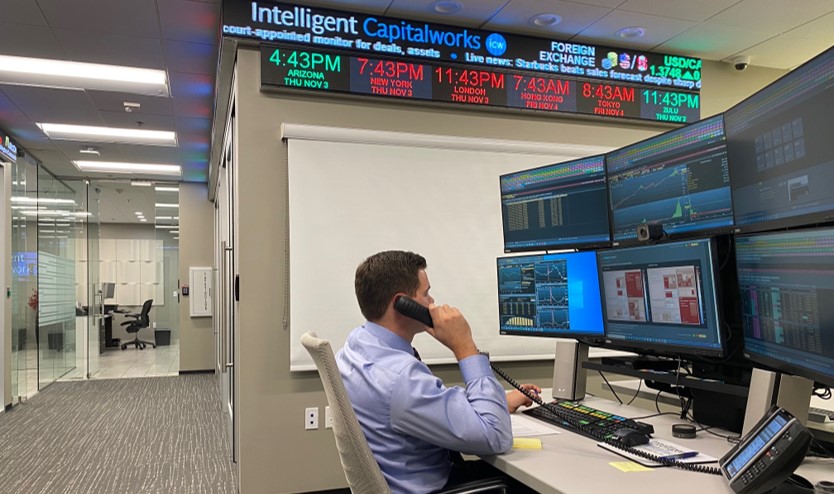 Intelligent Capitalworks is Certified to a Defined Fiduciary Standard
Most investors don't have the expertise to adequately oversee their investment advisor.  CEFEX provides a rigorous and systematic assessment performed by an independent fiduciary expert.

CEFEX, the Centre for Fiduciary Excellence, LLC, an Fi360 company, has certified Intelligent Capitalworks among Arizona fiduciary financial advisors to the standard described in the handbook Prudent Practices for Investment Advisors. The technical review of the Prudent Practices was conducted by the American Institute of Certified Public Accountants.

The independent CEFEX Investment Advisor certification demonstrates adherence to a fiduciary best-practice standard among fiduciary financial advisors.

Intelligent Capitalworks was one of only 24 companies nationally, including Fidelity Investments, Deutsche Bank, Chubb, Federated Investors and Thornberg Investment Management, and the only Arizona-based firm with fiduciary financial advisors to help pay for the printing of the first edition of Prudent Practices for Investment Stewards in 2006.
Adherence to a Fiduciary Standard
CEFEX advisory firms adhere to the Global Fiduciary Standard of Excellence. This means they act in the best interest of investors. This is in contrast with a firm that lacks a fiduciary process.

The fiduciary standard offers a consistency of interpretation and implementation, which facilitates the transfer of knowledge between the advisor, clients, vendors and regulators.
CEFEX advisory firms voluntarily undertake annual audits by independent fiduciary experts. This verifies their adherence to the fiduciary standard and is supplemental to the oversight performed by most financial regulators, who require advisors to meet a minimum compliance standard.

The objective is simple: to protect investors.
A CEFEX-certified advisory firm places your interests first to help you realize your investment objectives sooner, better align investment services to expenses, and be accountable for actions taken.

Institutional and individual investors expect these benefits from an advisory firm, as they would from any other professional organization. CEFEX certification demonstrates that the firm places a high importance on realizing these benefits.
Annual audits maximize the advisory firm's professionalism because the firm is required to keep up to date with regulations and best practices. The CEFEX audit helps foster a culture of continuous improvement within the firm.

The assessment process for CEFEX certified investment advisory firms is frequently updated to address changes in regulations and evolving best practices.
What's in the CEFEX Certification Audit?
CEFEX assessment is based on the international standard, ISO 19011: Guideline for quality management system auditing. The assessment is evidence-based, and all work is reviewed by the CEFEX Registration Committee to ensure impartiality and consistency.
The assessment includes document review, client file sampling, on-site visits, a background check and interviews with senior representatives at the firm. The assessment methodology includes attorney-developed schedules based on regulation. The assessment is conducted by CEFEX Analysts who must hold the Accredited Investment Fiduciary Analyst® designation and maintain annual training by CEFEX.
Vincent Rossi was in the first graduating class of Accredited Investment Fiduciary Auditors from the Center for Fiduciary Studies at the Joseph M. Katz Graduate School at the University of Pittsburgh in 2003.
The CEFEX certification audit is based on the standard described in the document: "Prudent Practices for Investment Advisors," published by fi360, Inc.
Intelligent Capitalworks | CEFEX-Certified Fiduciary Financial Advisors
Intelligent Capitalworks voluntarily demonstrates adherence to a defined fiduciary standard of Prudent Practices for Investment Advisors. CEFEX audits involve sampling of client records and a thorough review of processes. Intelligent Capitalworks bears this additional independent oversight responsibility and attendant costs and expenses in addition to State and Federal regulatory oversight by the Securities and Exchange Commission to earn increased client trust.

A CEFEX audit results in the publication of a CEFEX Independent Assessment Report, the most comprehensive report to support the selection and monitoring of investment professionals and service providers.

This report offers a unique method to document the selection and monitoring of your service providers, summarizes an independent expert analysis, and provides assurance to the public that an advisor or service provider has been asked the difficult questions required to demonstrate fiduciary excellence and prudence.

Among all fiduciary financial advisors headquartered in the Phoenix Metropolitan area working with working with high net worth clients, Intelligent Capitalworks is the only financial advisor that has been independently certified to a fiduciary standard by CEFEX.
Fiduciary Financial Advisors | Institute for the Fiduciary Standard
The Institute for the Fiduciary Standard is a champion for investors.  Intelligent Capitalworks is one of only two financial advisory firm members of the Institute in Arizona. The Institute's programs and papers teach investors and advisors about what the fiduciary standard means.

All investors want an advisor they can trust. Helping investors find a real fiduciary advisor is the Institute's mission.

The fiduciary standard has been called "the highest standard under the law." The Real Fiduciary™ Practices required of members of the Institute for the Fiduciary Standard apply this rigorous law in basic practices.  The practices are crafted to be understood by ordinary investors and written in plain language to describe what an advisor must do as a fiduciary.  The practices have been developed by fiduciary advisors and endorsed by fiduciary experts.

Advisors who subscribe to the Real Fiduciary™ practices are unique.  They voluntarily agree to do more for their clients than regulators and other standards require.  How do they "do more?"  They agree to more education and more transparency and clarity about what they do and what it costs you.  For example, here are three commitments that are important to investors that Real Fiduciary™ Advisors put in writing.

Real Fiduciary™ Advisors will:
Act as a loyal fiduciary at all times;
Avoid conflicts if at all possible — and only accept compensation from clients; and
Disclose and explain the actual fees the clients pay and the firm makes.
These tasks may appear simple enough, but the fact is only only a small percentage of all advisors and brokers are allowed by their firms to make these commitments in writing. 

Of course, non-fiduciaries will likely not want to discuss this with you because it requires that they reveal all their sources of compensation.  Any sources of compensation an advisor or broker receives other than from the client creates the potential for conflicts of interest.
Fiduciary Financial Advisor
Interview Guide
Use our proprietary interview guide, Selecting a Wealth Management Professional, in your advisor search process as you conduct your personal due diligence and dig deeper with more targeted questions during your interview with us and other fiduciary financial advisors.