Fiduciary Wealth Management
We plan the work.
Then we work the plan.
As fee-only financial advisors, we strive to help you with your financial life and get you ready for your financial future. We help you develop plans intended to help you accumulate enough investment assets to achieve the financial and other goals you have.

Fiduciary wealth management workflows. We help manage 39 wealth management workflows and combine critical thinking with detailed analysis for your cash flow planning, retirement planning, tax planning, investment management, trust and estate planning, and gift planning. Then we work on the front lines every day helping you manage your wealth and handling the related processes and tasks that help you stay the course.

We build and manage a portfolio of investments in your personal and retirement accounts. Our goal is to help you generate the liquidity, safety, income, capital growth, and tax and cost control you will need to meet your financial goals.

We monitor and compare your results to your plan. We re-evaluate and re-analyze as necessary, and provide you with counsel and advice for ongoing course corrections to stay on plan.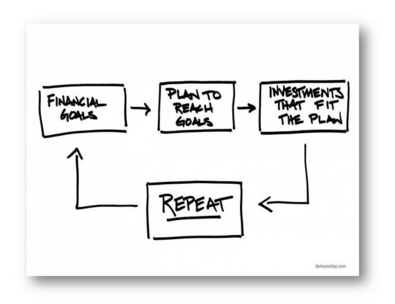 Fiduciary Wealth Management at Intelligent Capitalworks
We serve you as an advisor, manager, leader, and counselor.  In each role, we contribute differently as you look to us with different needs at different times.  Most often, we contribute simultaneously across all capacities in differing degrees.  As leaders, we provide motivation and direction.  As counselors, we help remove barriers.  As advisors, we provide technical advice.  And as managers, we carry out process.  Taken together, we are always working to position you in your place of greatest potential.

We serve you as a fiduciary.  In fact, we only serve our clients in a fiduciary capacity.  Intelligent Capitalworks has also been certified to a fiduciary standard by CEFEX, the Centre for Fiduciary Excellence and is one of only two members of the Institute for the Fiduciary Standard in Arizona.
Fiduciary Wealth Management Advisor
Interview Guide
Use our proprietary interview guide, Selecting a Wealth Management Professional, in your advisor search process as you conduct your personal due diligence and dig deeper with more targeted questions during your interview with us and other fiduciary financial advisors.