Shortfall Risk is the Greatest Risk to Retirement Success
The greatest risk to retirement success? For most of us, it's shortfall risk ‒ the chance that our savings will expire before we do. Shortfall risk typically arises from one or both of these shortcomings: (1) not taking the time and doing the work to study how much we might need, or (2) the lack of a plan to accumulate enough, and the discipline or guidance to stick with it.

So how do you measure how much money you may need to eliminate shortfall risk for you? By working through an asset/liability study. In simple terms, this means taking stock of what you have, and measuring it against what you may need.

The difference between your assets and future liabilities will either be a surplus or a deficit. If you have a surplus, you will sleep well. On the other hand, if your projected assets fall short of your future liabilities, you've got work to do or look forward to restless nights. Either way, an asset/liability study will help inform you how to improve your opportunity for retirement success.
Reducing the Greatest Risk to Retirement Success
There is no shortage of website tools available to help you reduce the greatest risk to your retirement success. And while these tools are getting better all the time, it's important to recognize that real life doesn't follow a static script that matches neatly to the artificial intelligence of a computer algorithm or online financial engine.
The Detours of Real Life Can Increase the Greatest Risk to Retirement Success
Remember, real-life is not neat. If online diagnostic tools were enough, we could go without the skills, competencies and trained and experienced judgments from all of the professionals who serve us well in the other parts of our lives. But we know better than that.

A caring and experienced guide listens to what you say [and what you don't say], works to understand your thoughts and feelings, and helps coach you around, and sometimes through, your perceptions and attitudes, your blind spots, your aspirations and history, and your hopes and fears for your family. The creativity of human intelligence to inspire, create breakthroughs and provide leadership is fundamentally organic, not algorithmic.

The creativity of a qualified advisor is what helps you respond to, address, and create solutions to the inevitable and unexpected bumps and detours that unfold in your life and begin to increase the greatest risk to your retirement success. It's what gives a qualified advisor the opportunity to create far greater value for you than merely printing out a retirement study for you to read.

In short, the one life you have to live is not satisfactorily guided by pages of one-dimensional, numerical results. To be sure, the numbers that online tools provide can help to inform you. But they are not enough.

By way of analogy, reading what is required to earn a college degree is not the same as successfully mastering the material to earn the degree. Precious few of us are capable of earning a degree purely through self-study. Most of us require the teachings, insights and guidance that comes from interaction with experienced professors.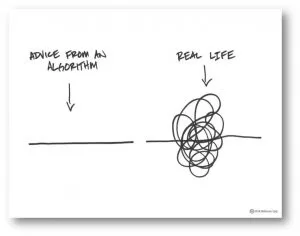 To extend the analogy, there are plenty of diet plans, instructional golf videos and medical websites available these days, none of which requires us to interact with another human being. But seldom, if ever, do these aids yield the same results as the dietician, golf coach, or doctor who brings training, skill, experience and personal care to bear on your behalf.
A Qualified Professional Can Help You Minimize the Greatest Risk to Your Retirement Success
So it is when evaluating your personal financial situation. We believe the experience and personal guidance of a qualified professional is far more valuable than computer models that spit out the same generalized answers and solutions for thousands of users, especially when you are trying to minimize the greatest risk to your retirement success.

If you are looking for qualified professional advisors with depth-of-field and experienced judgment who are capable of helping improve your retirement success, we may be able to help.
It's just part of what we do.